Summary and Analysis of Milton's Prose
A Whirlwind Tour of the Protestant Reformation

Background for Milton's Anti-Prelatical Tracts

Of Reformation

The Reason of Church Government

An Apology Against A Pamphlet

The Doctrine and Discipline of Divorce

Areopagitica

Background for Milton's Regicide Tracts

The Tenure of Kings and Magistrates

Eikonoklastes

The First Defense of the English People

The Second Defense of the English People

De Doctrina Christiana
---
Milton's Theo-Political Views
Milton's Theological Anthropology

Milton's Scriptural Hermeneutic

Secular Authority from the Bible to Milton

Milton, and Satan's Protestant Rhetoric

Platonic/Neoplatonic Background for the Trinity

Milton's Developing Politics
---
Milton's Poetry (HTML Texts)
---
Articles on Milton
(by Michael Bryson)
"From Last Things to First: The Apophatic Vision of Paradise Regained"
In Milton and the Visionary Mode: Essays on Prophecy and Violence. Eds. Peter E. Medine and David V. Urban. Duquesne UP. pp. 241-265.
"'His Tyranny who Reigns': The Biblical Roots of Divine Kingship and Milton's Rejection of 'Heav'n's King.'" Milton Studies, 2004, 43:111-144.
"'That be far from thee': Divine Evil and Milton's Attempt to 'Justify the ways of God to men'"
Milton Quarterly, May 2002, vol. 36, no. 2, pp. 87-105.
"The Mysterious Darkness of Unknowing: Paradise Lost and the God Beyond Names"
A Poem Written In Ten Books: Paradise Lost 1667, Eds. John Shawcross and Michael Lieb. Duquesne UP, 2007, 183-212.

"A Poem to the Unknown God: Samson Agonistes and Negative Theology."
Milton Quarterly, March 2008, vol. 42, No. 1, 2008, 22-43.
Books on Milton
(by Michael Bryson)
The Tyranny of Heaven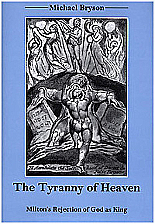 Review of Tyranny of Heaven
Early Modern Literary Studies 10.1 (May, 2004).
Review of Tyranny of Heaven
Seventeenth-Century News, 62, no. 3, (2004).


Review of Tyranny of Heaven
SEL 45,1 (Winter 2005).